---
Pieria Education System Originated from Europe since 1994. Pieria is from the Greek mythology, a sacred place called Mt. Pieria of Mt. Olympus, where lived the goddesses who administered wisdom, justice, law, humanity, math, calendar, poems, music and art.
---


  Patience, loving, perseverance, attentive, caring are the 5 elements that every teacher's must-have in Pieria Education System.


  Aren't all kindergarten teachers the goddesses of wisdom? Or are they sure from outer space? There are millions of problems that can happen in a kindergarten every day. Children's learning issues, emotional issues, social relation problems, kids' eating or drinking problems etc. Kindergarten teachers must be capable of providing solutions to these issues and problems, which makes them become someone with high EQ and extremely intelligent.


  Kindergarten teachers specialize in giving all kinds of encouragements and praises. They praise children when they are punctual, or praise the one who remembers to close the bathroom door. They encourage and praise children who ate dinner by themselves the night before. They practice giving encouragements and praises daily as role models to the children.


  A kindergarten teacher is the child's safe, refrigerator, resource box, teaching kit, gas station and a dictionary. Children ask for crayons, water, or even a hug from teachers, and they ought to be available at all times. Teachers are the most resourceful people in the world.


  Who has the most ideas in a kindergarten? Who knows how to make children happy and also instructs them how to hold a normal tomato in hand and make it look so yummy in front of a camera during outing? Yes! You are right! The Teachers!


  Pieria believes that all kindergarten teachers are charged with super power battery, so they can be so active and energetic all day long. Not only teaching but also taking care of the children, preparing for lessons, attending trainings and all kinds of issues that they need to deal with. Therefore, teachers aren't just supermen, they are the undefeatable transformers in the universe.
---
When teachers practice Pieria principles, the children are cultivated with the Pieria qualities consciously at the same time. It has been such a pleasing and joyful thing.
---

---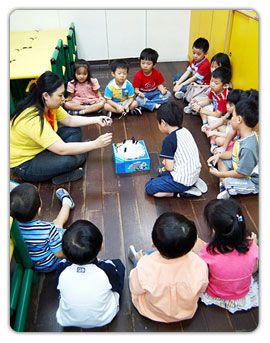 When we design the curriculum, Human Ecology System weighs 1/3 of the total program. The theme sets off from "Individual->Family->School->Society->Country
->World->Earth->Universe" to broaden the vision of culture, art, social studies, science and nature and in addition to develop self-conscious.
  Furthermore, to establish "lifelong learning" ability by introducing diversified programs on math, language art, music, movement, EQ and potential development subjects.

  Children basically learn from games, activities and self-exploration. Pieria Education System designs the curriculum based on children's development principle. The system incorporates songs and rhymes, role-play activities, learning aids operation and most important, we apply "learning by doing" into the Pieria Education System.


  Giving assurance, encouragements and praises during learning helps instill self-confidence and meet the satisfactory of children. Pieria Education System insists on providing a safe and stable learning environment to help the children develop creativity, sensory perception ability and imagination.
  Children lead the games and learning, teachers guide and assist during learning process. Through games and activities, children learn to respect, tolerate and forgive, appreciate each other. Peer interaction and team spirit are conceived through this learning process.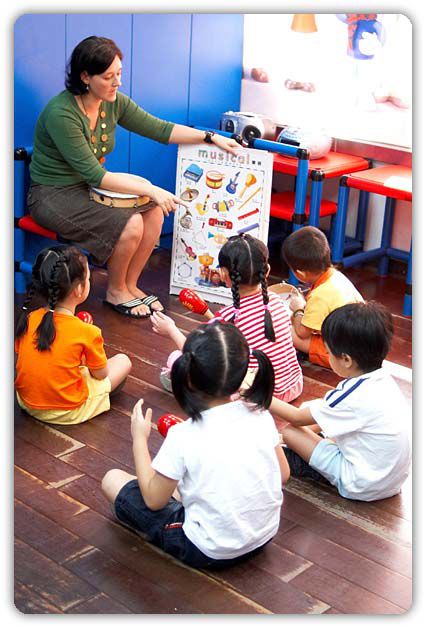 Children enter the school as their first step to the form of society. There are few categories of what they learn at school. Math—numbers, quantities, shapes, colors, sizes, heights, spatial concepts and other logical and abstract knowledge. Science and Nature-- weather, temperature, insects, animals, lights and electricity etc. Also on how to respect life and treasure resources. Languages—different languages, words, songs and rhymes. Music and art—to edify and enlighten oneself. EQ—to know, to assure and to appreciate oneself. Understanding the individual difference and learn to tolerate and forgive and most important, to communicate.
  We always discover the core value from children's growth and constant changes. "Exploring a new thinking, Creating a new vision." is the core value in Pieria Education System.