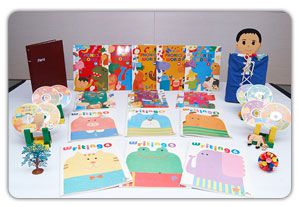 2 to 6
  Toddler, Primary, Junior , Senior class

Elite Bilingual Department::
  Student Book – 7 levels
  Student Book CD – 7 CDs
  Story Book – 6 levels
  Phonics Book – 8 levels
  Phonics CD – 8 CDs
  Writing – 6 levels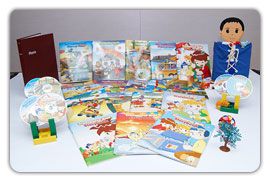 Elite International Department:
  Student Book – 8 levels
  Student Book CD – 8 CDs
  Story Book – 8 levels
  Phonics Book – 8 levels
  Phonics CD – 8 CDs
  Writing – 6 levels

  The main reason to learn languages is for communication use in daily life, and to build a bridge to the global village. Children are inspired to learn languages in order to make contacts with the others in their lives. We are developing children's English listening, speaking, reading and writing skills with our Language Art System. Therefore children will effectively use English as one of the major communication tools.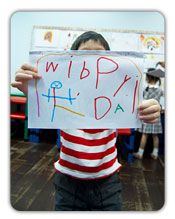 Warm Up:
  Teachers intrigue children's attention and interests by providing a short conversation or simple and fun games in the beginning of each lesson.
Review:
  Revision will be given first in each lesson, and then teachers will introduce new vocabulary, sentence patterns and conversation with vivid body language and our diversified teaching materials. We always incorporate songs, rhymes and games into each lesson for utmost learning outcome.
Reinforcement:
  It is necessary to practice on taught lessons repeatedly through fun activities, therefore children can fast incorporate and utilize the vocabularies, sentences and conversations into their daily lives.
TPR:
  All English lessons at Pieria are conducted in a rhythmical and joyful environment. Teachers teach English with lots of body languages and activities along with the speaking and listening exercises. Children find comfort to speak English incorporating with body movements, and they develop their listening and speaking ability simultaneously.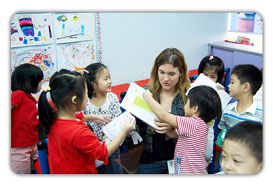 1. Colorful flashcards, posters, puppets and models:
  Pieria provides a fun, interesting and vivid learning environment to enrich children's English learning and to fast adapt this foreign language.
2. Audio supplements:
  All textbook CDs are recorded by native speakers to help children to recognize, differentiate, and pronounce various sounds accurately and clearly.
3. Diversified and exquisitely-made cloth books and picture books:
  Children learn English effectively through these diversified supplements. They will understand better of different cultures, customs and broaden their perspectives.

Four sections are divided according to children's psychological development, life experience and age: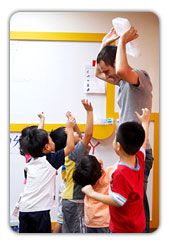 1. Listening:
a. Be able to differentiate the vowels, prefixes and suffixes.
b. Be able to imitate the intonation.
c. Be able to understand the easy songs and rhymes.
d. Be able to understand the classroom use English, daily
 conversations and basic greetings.
e. Through the aid of picture books and flashcards, the young
 learners can understand the English stories and games.
f. Be able to understand simple questions, declarative,
 imperative and exclamatory sentences.
2. Speaking:
a. Be able to pronounce the alphabets and vocabularies correctly.
b. Be able to say the intonations right.
c. Be able to sing the songs and rhymes.
d. Be able to correctly use classroom use English, daily conversations and basic
 greetings.
e. Be able to describe the pictures or flashcards.
f. Be able to say the vocabularies, sentence patterns and conversations with correct
 intonations.
3. Reading:
a. Be able to recognize alphabets.
b. Be able to write the 26 alphabets in both lower and higher cases.
c. Be able to use Phonics principles to pronounce English words.
d. Be able to understand the relationship between spelling and pronunciation.
e. Be able to read simple and short stories.
f. Be able to correctly spell and read simple vocabularies, sentence patterns and
 conversations.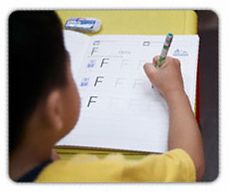 4. Writing:
a. To establish the imprint and concept of words.
b. To reinforce the small muscle development and
 hand-eye coordination.
c. To cultivate the sensibility towards words and
 enhance vocabulary memory.
d. To learn to use appropriate words or vocabularies
 to describe abstract feelings.
e. To reinforce effective vocabulary or word uses.