Educational Goals: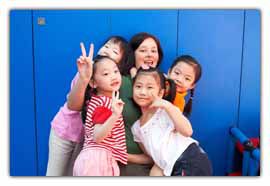 1. To improve the future capability and wellbeing of children, we put emphasis on cognitive abilities of good humanity accomplishment as well as interpersonal interactions.
2. To promote children's early language development, we create a natural and spontaneous language learning atmosphere that encourages children to explore, to solve problems, and to use English in everyday life.
3. To foster children's courage, wisdom and leadership qualities, we see the importance of developing warm-hearted, calm brain, and positive attitude as essential values in their everyday learning.

Educational Goals: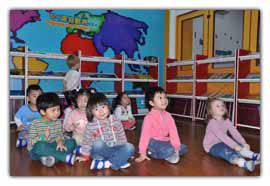 1. To expand children's vision to the world, we encourage children to explore, to experience, to appreciate, to respect as well as to shape their attitudes about racial and cultural diversity.
2. To promote children using English as a tool in daily life, we create an English-rich learning environment that meets children's needs and engages them in thinking and expressing English naturally and spontaneously.
3. To foster children in a high EQ of leadership effectiveness, a high IQ of thinking skill and a high CQ of potential development, we offer an excellent environment that encourages children to develop valuable social and life skills for positive thinking and good character.
After-school Program
Educational Goals:
1. To decrease children's learning pressures, we design a complete program to link their learning from pre-school to elementary school smoothly.
2. To enhance children's cultural temperament, technology application ability, mathematics foundation, logical thinking, and integration ability.
3. To instill and cultivate children to grow as a wise, a warm-hearted, a happy, a calm and a kind individual.